Premises Liability Violation Attorney
Serving Morgantown and All of WV
Injured by Uneven Sidewalks, Electrocution, or Inadequate Maintenance?
The Law Firm You Can Trust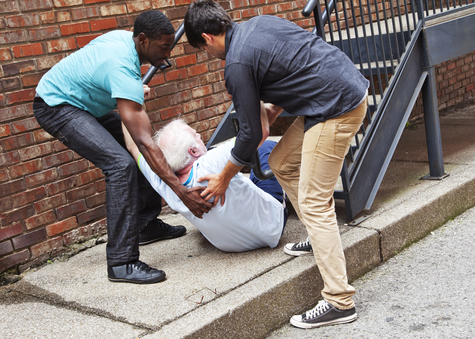 If you have been injured as a result of negligence on the part of an individual, store owner, bar, or other commercial entity in Morgantown or anywhere in the state of West Virginia as a result of actionable negligence, contact Angotti & Straface Attorneys at Law L.C. right away. Premises liability violations involving actionable negligence include those where the party responsible for maintaining the property has breached their legal duty toward ensuring the safety of the injured individual. If you have been injured on the premises of another, contact our law firm for a free initial consultation to discuss your case. Common premises liability claims include:
Objects Protruding from Floors, Walls, etc.
Uneven Sidewalks
Inadequate Maintenance
Accidents on Elevators, Stairs, and Escalators
Inadequate Lighting
Water Leaks
Flooding
Toxic Materials
Electrocution
Amusement Park Accidents
Inadequate Building Security
Trespasser Versus Non-Trespasser Injuries on Private Property
If you entered property belonging to someone else without the express or implied permission of the landowner, little protection is afforded to you under West Virginia state law unless the landowner's conduct toward you was intentional or reckless. However, if you had permission to be on the property, the landowner's duty toward you included ensuring that the premises were reasonably safe by meeting the standard of care (including determining the presence of any dangerous conditions, repairing them and/or warning you of the danger).
Maximum Financial Compensation
for Preventable Injuries & Negligence
A HANDS-ON APPROACH TO EVERY CASE
PROTECTING WEST VIRGINIA'S INJURED SINCE 1952
If you have been seriously injured as a result of a preventable accident, negligence, or failure of the landowner to alert you to a danger present on the property, contact Angotti & Straface Attorneys at Law at: (304) 292-4381. You may be entitled to financial compensation for your injuries and losses. We offer a free initial consultation to determine whether the landowner failed to exercise his duty of care according to law. If you have a valid claim, our premises liability legal team will seek the maximum financial relief allowed by law. Our law firm serves clients in Charleston, Huntington, Parkersburg, Morgantown, Wheeling, and throughout West Virginia.