WV Construction Zone Auto Accident Attorney
Injured on the Job? Get Full Financial Compensation NOW
The Law Firm You Can Trust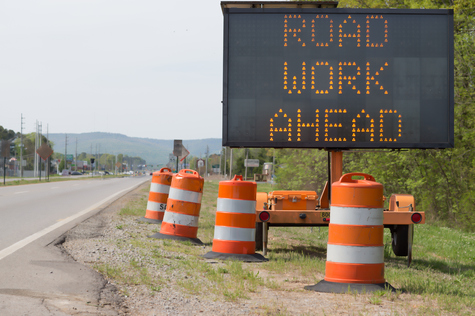 Have you suffered a serious injury in an auto accident at a highway or construction work site in Morgantown or anywhere in West Virginia? Angotti & Straface Attorneys at Law L.C. has been the trusted legal representative of injured workers since 1952. In most cases, workers' compensation is woefully inadequate to cover your actual medical expenses, lost wages, property damage, and future expenses incurred as a result of vehicular accidents that occur at construction sites. The heavy equipment and large machinery involved in construction projects frequently causes severe, catastrophic, or fatal injuries when these types of dangerous equipment are involved in accidents. Our law firm conducts a full investigation to determine whether your accident claim meets the criteria for additional compensation from the at-fault party.
Work Vehicle Collisions
Struck by Construction Vehicles or Passing Motorists
Pinned Between Construction Equipment
Crushed by Heavy Equipment/Work Trucks
Work Accident Due to Speeding,
DUI, Negligence, or Distracted Driving?
Profit is the main goal of most construction jobs, and the expenses of properly maintaining equipment and adequately training employees to operate the machinery is often neglected in favor of just "getting the job done." In addition, speeding, poorly designed or incomplete roadways, driving or operating heavy equipment under the influence, and distracted driving compound the serious dangers of working at construction sites. Our personal injury attorneys focus on recovering the maximum financial compensation for your injuries by holding all individuals and entities responsible for their wrongdoing or negligence.
File Your Civil Personal Injury Claim for Financial Loss Right Away
Speeding in a construction zone is punishable as a criminal offense. However, you do not have to wait for the criminal matter to be settled before filing your personal injury claim as a civil matter to recover damages for your financial losses, pain and suffering, and future anticipated expenses. Our law firm will investigate the facts of your case and file litigation immediately. If your employer has exhibited willful negligence, we will also provide dedicated legal representation to hold the company responsible, as well. Your employer's duties to you include:
Slowing or Re-Routing Motorists Traveling Through the Work Zone
Installation of Lateral Buffer Zones, Barriers and Warnings Indicating Your Presence to, and Protecting You From, Passing Motorists
Properly Maintaining All Vehicles and Equipment
Ensuring That All Employees Are Properly Licensed and Trained
Redirecting Traffic With Competent and Properly Trained Flaggers
Providing Adequate Night-time and Inclement Weather Illumination
Providing High-Visibility Apparel and Safety Equipment
Work Auto Accident Caused by Willful Employer Negligence? Call Now!
A HANDS-ON APPROACH TO EVERY CASE
PROTECTING WEST VIRGINIA'S INJURED SINCE 1952
If you believe that your injuries may have been caused by failure of your employer to provide an adequately safe environment, an equipment manufacturer provided defective equipment, or willful wrongdoing/negligence contributed to your workplace auto accident, contact Angotti & Straface. Our personal injury legal team is unique in that we conduct comprehensive investigations, have access to superior accident re-constructionists, and a full-time research and administrative team to construct the best possible case for your claim. This allows you one-on-one time to spend directly with your attorney to get answers to your most pressing questions and receive optimal representation. Contact us to schedule your complimentary initial consultation: (304) 292-4381. We represent injured clients living in Huntington, Charleston, Wheeling, Morgantown, Parkersburg, and throughout West Virginia.